Offering residents of Alberta a low down-payment acreage or cottage development bridge financing program. For borrowers that want a new self-contained factory-built home at a location of their choosing completed within 4 months. You choose the land and home and coordinate the land preparations. We finance the project and you purchase the finished home from us upon completion.
Why Did We Develop this "Bridge Financing" Program?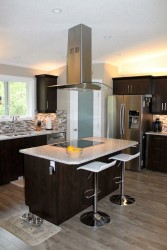 Developing vacant land, for example a lake-lot or a small acreage, with a new home can mean a lot of great things for you and your family, including the opportunity to get away from the hustle and bustle of the city in the home of your dreams, choosing all the elements of your new place, and the sense of accomplishment and satisfaction that comes with it.
However, you have discovered (or will soon discover) that the money required on your part to buy land, service it, and bring in a home or cottage with foundation is roughly 5 to 7 times the minimum down payment required to purchase the exact same property if it already existed. We call this the Cash Requirement and it is explained in-depth in our Mortgage Financing Guide to Developing Vacant Land. So while a mortgage lender might give you up to a 95% rebate (ie. mortgage) by the time your project is complete, they will not give you money in advance to put your project together.
If you are short on the cash required to develop a property, you could ask a family member to lend you the cash until the rebate (mortgage money) comes in. For those of you who do not have family members with deep pockets, we are piloting this RTM Acreage / Cottage Development bridge financing so that you too can get into a great home and be sitting on your deck in no time! Our team puts up the cash and project management oversite - you help coordinate at the ground level and purchase the finished project from us at completion with regular mortgage financing, just like buying a turn-key new home from a builder in the city.
As mortgage professionals, we know exactly what the banks need to approve you and the project, which is why we developed this program. If it can be done and the risk is manageable, we are happy to help. Factory-built/RTM means your home is being constructed in a quality-controlled setting while the building site is simultaneously being prepared with foundation and services for home delivery. A self-contained unit means there is no mechanical, HVAC, or carpentry required at the job-site. This means rapid development, cost control, and low risk.
Program Requirements:
Qualification

You must be a resident of Alberta and the build location must be in Alberta.
You must be able to mortgage-qualify for the finished home.
• A detailed mortgage pre-approval is required at the start to set the budget for land and home (generally, your budget can not exceed 4 times your annual employment income).
• You should have a 10% deposit based on the budget amount.

Property

You locate or provide the land, which should be 5 acres or less and preferably serviced with water, septic, power, and gas.
• If any services are missing or need upgrading, you get the required trade quotes.
• You must verify with the county or municipal office that building a home there is permissible.
• You must also confirm that house insurance would be available for the completed home (ex. it's not in a flood zone).
You establish contact with and choose a factory-built home model and foundation from a dealer-installer that can deliver and install the home from start to finish within 120 days (4 months or less)
You desire to and are able to coordinate and line-up the installation of all other elements of the project that the dealer does not include in their quote including well, septic, power, gas, site prep, etc.

Project

A "Land & Home Purchase Contract" will define the project once all the development components, costs and permitting are finalized.
• Your purchase price is set at fair market value, which must exceed the cost-to-complete plus an acceptable developer's profit.
• Your new build 'completion' mortgage must be approved based on this contract.
• Work can commence once the above is complete.
Next Steps (PLEASE READ THIS CAREFULLY :)
Tell us a little about yourselves on the form below this section, which will help us determine what is within your financial reach. Generally your entire home + land + services budget cannot exceed 4 times your annual employment income(s) and you need at least 8% of the budget amount in cash. So - for example - if your annual employment income is $100K, we would expect that your all-in-budget be $400K or less and that you have $32K in cash for deposit.
If your property objective, cost estimates, and your financial situation look like a potential fit for the program, we will invite you to a Discovery Call. On that call, we will explore your finance options and help fine tune a preliminary budget amount for land, home, and utility services.
For preliminary research make some calls and begin to locate and cost out the components, including land and home. YOUR FIRST STEP IS TO GET A BALLPARK HOME QUOTE ALL-IN INLCUDING TAX, FOUNDATION, NEW HOME WARRANTY & DELIVERY as that will drive what you can afford to pay for land and services.

You will want to download this specific >>

RTM Low Down Payment Cost Projection Template

<<

and go straight to the Establish Budget tab. Enter your max mortgage at 4 times you annual household employment income as a starting point.
The template will help you get and organize quotes for all the items you will need to address. The builder-partners we are working with so far are

listed here

, but you can certainly suggest a different builder/installer if they meet the criteria shown above.
If you have a project that appears to be within budget and looks good, we can move into step 2 of our mortgage approval process, which involves a mortgage pre-approval (application and detailed review of your financial support documents and credit) to confirm that you can indeed get a mortgage for the finished project.
If all is still looking good including project timing and economics, we will draft a Land & Home Purchase Contract and start filling in the blanks. Meanwhile we will be working with the land owner, service-providers, and the builder to confirm supply, costs, and timing.
Final note, for now we are focusing on Alberta projects only as we know the local rules and need to work the kinks out of this pilot financing program. If all goes well, we will expand to BC and other provinces in due course. Please note, we do NOT finance RTM home builders for work-in-progress (ie. we are unable to make payments to your builder while they build your home off-site /in their factory/yard.). The project time-frame needs to be about 4 months or less, which can easily be accomplished when choosing a self-contained modular RTM home.