The Home Buying Process
Once you know how much you can afford, there are a few steps you'll have to tackle before you can get the keys to your new home. Here's a broad overview of what you can expect.
1. Check Out the Neighbourhood
Before you begin looking at houses, narrow in on your chosen location.
2. Establish your home buying team
Having the right team in your corner can make all the difference when it comes to buying your first home. Your home buying team can bring a wealth of real estate experience and expertise that will help make the process as simple and straightforward as possible. Team members will often include your Realtor, Lender or Mortgage Broker, Home Inspector, Appraiser, Lawyer, Insurance Broker, Land Surveyour, and Mover. Often you will find that your Realtor and Mortgage Broker can provide top quality referrals to professionals they have good success with.
3. Get pre-approved for a mortgage
If you haven't already, this is where you will decide how much you can afford. When it comes to choosing a mortgage that works for you, start by asking yourself a few questions. Are you likely to get the financing you need? What will you do if interest rates go up before you've found your home? When it comes to getting pre-approved, be honest with yourself and your situation. Getting the home you want starts with getting a home you can afford. Your mortgage broker will help you answer these very important questions. Contact us for a free consultation.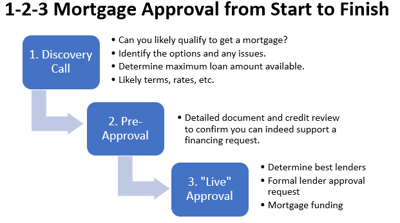 4. Make an offer
Making an offer is where the rubber hits the road, often exciting and scary at the same time. Your offer will include your proposed purchase price and move-in (possession) date as well as certain conditions like your ability to secure financing, a satisfactory home inspection, and the inclusion of certain items you want included with your home purchase like appliances, window treatments or light fixtures. Often there is some back and forth between buyer and seller until the offer is accepted.
5. Finalize your mortgage
Your mortgage broker will work with you to help you get the mortgage that's right for you. If you've been pre-approved for a mortgage, present your accepted offer to your broker who will advise you of any other requirements to secure the mortgage.
6. Close the deal
As the closing day approaches, it's not unusual to feel both excited and anxious. Keep in mind your Realtor, mortgage broker and lawyer will do most of the work for you to ensure that everything goes smoothly at closing.
Obviously there are more details and a lot more to it.
More Home Buying Resources
Free Guide: Understand your Credit Report and Credit Score
How to Access Your Credit Report
first time home buyers tax credit
how to choose a home inspector
how to prepare for financial uncertainty
ready to be a homeowner or is renting still right for you
retail energy contracts for first time home buyers
scanning documents for your mortgage broker
my first home was in a mobile home park but i couldn't get a mortgage
how to fast track the home buying process
why a pre approval should be a first time homebuyer first step