Why Start Now?
Getting yourself financially positioned to get a mortgage and purchase a home often takes time and effort. Many things need to line up including your employment/income, credit history, and down payment to name a few. This comes easy for some, and for others there are specific things you would appreciate knowing well in advance of applying for a mortgage so that necessary corrective action is possible. It's comforting to know you are headed in the right direction, and that's the goal of our team - to help you buy your first home.
Tired of Renting?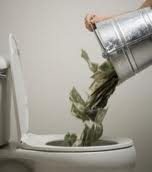 Every month that you wait, you flush your hard earned rent money down the toilet. Renting is wasting money because you don't control an appreciating asset. However, if you put those rent same dollars into a house payment instead of rent, you create equity ... value that you own, that later can send your kids to college, finance the start-up of your own business, or pay for your retirement. Be your own landlord and build up future financial security. We'll even show you easy strategies to speed up the payoff of your home without making extra payments. There's no reason to wait. We can help put you in a home right now or very, very soon. Switching from renting to home ownership can help you go from dependent on your landlord to financial security. You can use home ownership as the foundation of a complete change in your overall finances!
Where Do I Start?
Before anything else, you need to know can you even qualify for a mortgage, then how much you can afford. The availability of mortgage financing is obviously important to your purchase plans, and each mortgage lender has their own lending guidelines, or Rule Book. Besides the lenders' Rule Book, there is another set of rules whenever you have less than 20% down payment, as your lender will need Mortgage Default Insurance.
So when figuring out how much home you can afford, your mortgage professional must refer to the Rule Books that apply to your situation. The amount you can afford also depends on five variables:
Current interest rates
Interest rates change with the market, so you'll want to find out what the current rates are. Interest rates are lower for borrowers with good credentials, which serves to increase the mortgage payment you can afford to pay. However, rates are not necessarily lower for borrowers with less-than-stellar credentials as they represent more risk to the lender. Also understand that there is a lot more to a mortgage than rate.
Your available down payment
Required down payments are lower for borrowers with good credentials, which means you can qualify sooner. For borrowers with less-than-stellar credentials, larger down payments are required as they represent more risk to the lender. More About Down Payment.
The employment income that you can document
The income used to qualify for a mortgage may be lower than the would-be purchasers believe they have, as certain forms of income are ineligible. The amount of debt you have is also important. More About Income & Debt.
Your other monthly payment obligations
The more monthly payments a person has (credit cards, vehicle loans, lines of credit, etc.) the less of their income they have available for the mortgage payment, which serves to decrease the how much house they can afford to buy. More About Debts
Your credit repayment history, as measured by your credit score
When people lend you money, do you pay them back on time and as agreed? Every time you access credit/borrow money, whether credit card, cell phone, vehicle loan, student loan, etc., your repayment history and reliability is tracked by credit reporting agencies such as Equifax and TransUnion. Your credit score is a numeric value representing the likelihood you will pay back your debts reliably. The higher the better.
Free Guide: Understand your Credit Report and Credit Score
How to Access Your Credit Report
The home buying process - see below.