Determine Your Home Buying Objectives
While there are many reasons to buy real estate, you need to narrow in specifically on why you want to buy a property and what sort of property will meet your needs. Having clearly defined objectives will play a large role in determining where and what you decide to buy as well as the financial requirements to do so.
Are you purchasing a home to live in for the long term, will it be a stepping stone to bigger and better things, are you buying in order to house a growing family, or is your goal to purchase a property for investment purposes? Where do you see yourself over the next 3, 5, 10 years and how will the property that you buy impact your lifestyle, family, career, and wealth goals going forward? These are just some of the questions you should be asking yourself in order to focus in on what you are looking for and will help you articulate your requirements and plans to the professionals you will be interacting with such as your mortgage broker and real estate agent.
Sit down with the people who will play a role in your decision making process and try to get on the same page about why you want to buy a home and what you are looking for. Make a list of your needs, wants and nice to haves with regards to a property so that you can evaluate this against the options and obstacles that you encounter along the way. This may evolve as your understanding grows of what you can afford relative to what is available on the market in your area (more on this later), but establishing some preliminary criteria for what you want and don't want will guide your research, conversations, and actions going forward as you make progress towards your goals.
---

Prepare Yourself Financially to Buy a Home
Before you proceed with a mortgage pre-approval or property search, you'll want to have your finances in order. To qualify for a mortgage, you need to have a stable and reliable source of income, sufficient savings for the down payment and closing costs, and you need to have reasonable credit.
Some buyer's may be ready right away, and for others it might take some time to put all of the necessary pieces together before they can proceed. In either case, you need to know what you are aiming for in order to hit your target.
You need a stable source of income
To qualify for a mortgage in Canada, you have to be able to show that you reliably earn enough income to cover all of your debts and liabilities plus the new mortgage payment and housing related expenses (utilities, taxes, maintenance) that you will be taking on.
There are a variety of ways you might earn your income, but what is important is you must be able to demonstrate that your earnings are consistent and likely to continue for the term of the mortgage you will be applying for.
Mortgage lenders use ratios of your monthly liabilities relative to your monthly income called debt service ratios to calculate the maximum loan they are willing to give you. This means that if you have a lot of debt, you may find that the mortgage you can qualify for is reduced.
Rule of thumb: generally the maximum mortgage you can get with an "A lender" will be around 4x your gross annual household income. "B" and private lenders may be able to lend to higher debt to income ratios, but they charge higher interest rates and require down payments of 20% or more.
Save for a down payment
The minimum down payment you will need will depend on the specifics of your financial situation as well as your property objective, but can be as low as 5% of the purchase price for an owner occupied home in the city or can range upwards to 20% or more for a variety of other scenarios and property types.
There are also closing costs related to buying a property such as legal costs, appraisals, home inspections, title insurance and sometimes land transfer taxes which you will need to pay for. Additionally, you should have some money left over for fallback in case of emergencies and unforeseen expenses.
You may be able to explore more creative ways to come up with the necessary cash such as gifts from family members, selling an asset, or even borrowing some of the funds on a line of credit.
Stay on top of your credit
Before they approve you for a mortgage, lenders want to see that you have a reliable track record of paying your debts and bills on time as agreed. To do this, lenders will assess your credit history by looking at your credit report.
A credit report is a recorded history of how you meet your financial obligations over time. It tracks the types of credit you have had, the balances you've carried, your payment history, as well as any past involvement with collections, consumer proposals, or bankruptcy.
You don't need a perfect credit score to qualify for a mortgage and lenders are generally understanding that mistakes and blips happen, but if you have a track record of poorly managing your credit, you may run into problems. Luckily, credit can be fixed with some discipline, but it does take time, so it's better to start sooner rather than later.
---

Get Pre-Approved for a Mortgage
Before you start actively searching for properties, it is time to get pre-approved for a mortgage. Getting pre-approved early in your home buying process is absolutely essential as it helps you determine your purchasing power, identify any potential challenges you might face to qualify for a mortgage, and ensure that you aren't exposing yourself to any risks by proceeding under any false pretenses or assumptions.
Typically, the first step is to have an initial discussion with a mortgage broker where you will go through your financial situation on a high level and determine if your property objectives seem feasible. If everything sounds good from there, they will provide you with an application to fill out and a list of necessary documentation that you will need to provide.
Once the requested information has been received, your mortgage broker will pull your credit and review your application and documentation in order to calculate your maximum purchase price and identify any red flags that might cause you problems. They may request further information or make suggestions as to what you should do to improve your chances of qualifying such as paying off a debt or finding a cosigner.
Once your mortgage broker is satisfied with your financial situation and is comfortable that there will be financing options available for your financial situation and stated property objective, they will inform you that you are pre-approved for a certain amount and that you are free to search for properties and make offers within the parameters that you've discussed. If necessary, they may also provide you with a pre-approval letter to show your realtor and potential sellers to let them know you are serious and can even lock in an interest rate for you if there is a risk of rates rising while you shop.
Keep in mind that a pre-approval is not a guarantee and you should still make any offers to purchase conditional on full approval for financing with a specific lender. This is because a full approval will depend on the specific property you find and your financial situation could change or new information could arise in between when you get pre-approved and when you submit an offer to purchase.
Click here to read about the full mortgage approval process.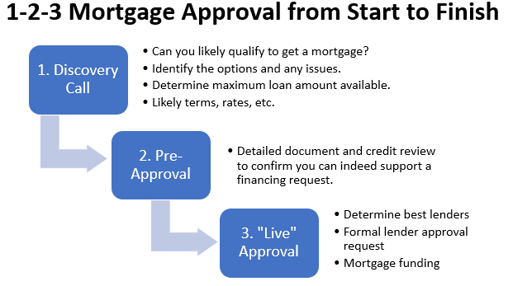 .
How mortgage brokers help
Working with a mortgage broker gives you access to a much broader range of mortgage financing options than working with an individual lending institution. Banks and other mortgage lenders make their mortgage products available to mortgage brokers and compete for your business. Brokers are able to shop among them on your behalf to obtain lending solutions and great deals based on the specifics of your needs and circumstances.
While you might be able to qualify for a mortgage at your usual bank, it is important to understand that the representatives there are acting in the interests of their employer and have no incentives to suggest the mortgage products of other lenders that may have more suitable options. Brokers are able to act as intermediaries between you and the various potential lenders in order to present a range of mortgage options and often have preferred relationships with the various lenders that allow them to access deals and solutions that you might not be able to.
A mortgage broker does not cost you anything because they get paid a commission by the mortgage lender (not you) only when they successfully fund your mortgage.
The end result is a great rate, more choice and better advice.
---

Search for a Property
Once you have been pre-approved for a mortgage, you can begin to search for a property that fits within your price range.
Keep in mind that just because you have been pre-approved for loan of a certain amount does not mean you should spend that much on a house. Choosing a property that costs less than the maximum you could qualify for leaves you a little wiggle room in the event of unexpected changes in interest rates, your expenses, or your ability to earn money.
When searching for a house, it is important to consider not just your current needs, but also how those needs may evolve over the next 5 to 10 years. Consider how a potential property fits into your ongoing career, family, and lifestyle goals. To determine how well a particular property fits your housing needs, there are five property specific considerations.
Location - Where is the property located? This is not just about what city, town or rural area you choose to buy in, but also about how the property is situated within. What are the nearby transportation, shopping, education, employment, recreation, and healthcare options and how do they coincide with your priorities? What are the neighborhood and neighbors like? Also consider any undesirable location attributes of a potential property such as local crime rates and proximity to various forms of noise, pollution, odors and allergens (sellers won't be motivated to disclose this type of information, so do your research).
Type - What type of property are you considering? In addition to financing differences for different property types, there are lifestyle differences as well. Are you interested in a house, duplex, condo, townhouse, acreage, etc? Do you need a basement? Can you navigate the stairs? Do you have pets (not all condos and townhomes allow pets, so this could be important)? Do you need a backyard, and if so what direction should it face? Consider how attributes such as shared walls, storage space, and general maintenance requirements may impact you.
Size - How much space is required? How many bedrooms, bathrooms and living spaces do you need? Do you or will you have children or pets? How often do you have guests? Do you need a home office? Is outdoor space a priority? These are all questions that you should ask yourself when determining how big of a property to buy. Keep in mind that bigger properties require more upkeep and cost a lot more.
Features - What specific features do you look for in a home? The kitchen, appliances, bathrooms and parking options all should be considered. Other amenities

such as a big backyard, air conditioner, central-vac, in-floor heating, walk-in closet or a hot tub may also be important to you. Some condo properties may also have access to gyms and co-working spaces. Also consider eco-friendly options such as solar panels and energy efficient plumbing and heating.

Expenses - What kind of ongoing expenses can you expect? The initial purchase of a property is just the beginning of the costs of home-ownership. Property taxes, utilities, condo/HOA fees, landscaping and snow removal, potential renovations, and general maintenance (especially for older homes) are all expenses that should be researched and understood before you purchase a home. The larger and/or older a property is, the more expenses you can expect.
Be sure to take the time to do your research and don't allow yourself to rush or feel pressured into any hasty decisions. The choices you make today will impact your lifestyle and finances for years to come. Having the right real estate agent on your side can help you assess your options and ensure you get a property that is right for you.
How real estate agents help
Like a mortgage broker, a real estate agent can be an invaluable source of information and guidance during the home-buying process. Not only can they help find the right property for you, but they can also help you negotiate a good deal, manage contracts and paperwork, and navigate regional and situational complexities using their local knowledge and connections.
Real estate markets go up and down over time. Real estate agents have access to past and comparable sales data and understand current market trends which can help you identify a good time to buy and determine how much you should be willing to pay.
Good real estate agents should be organized, experienced, well connected within their local market, responsive, and focused on putting your needs first.
How to choose a real estate agent
When it comes to choosing a real estate agent, trust is key. You need to make sure that the person representing you through such an important transaction is somebody who you can rely on to provide dependable advice and expertise and who will go the extra mile for you when necessary. Ask for recommendations from friends and relatives or look at listings in the areas you are considering to identify industry leaders. Feel free to conduct interviews to find one that you feel comfortable working with.
Real estate agents tend to specialize in different areas of the market as well as different categories of real estate, so it is important to know where and what you are looking for before you begin working with one.
To avoid conflict of interest, we suggest you avoid calling the agent whose name is on the listing you are interested in if you are looking for someone to represent you. Ask yourself, how can that person represent both your best interests (get you the lowest price for example) and the seller's best interest (get them the highest price)?
---

Make an Offer to Purchase
Once you have found a property that meets your requirements and is within your price range, it is time to make an offer.
Your real estate agent's job is to help you negotiate terms and write the offer. Using past comparable sales data and their knowledge of market trends they can help you identify good value for your money and determine what you should be willing to pay. While it can be emotional, it's best to be armed with facts, knowledge and professional representation to make the decision more rational and mechanical.
Don't be afraid to negotiate. This can be uncomfortable for some people, but this is a big purchase and it is important to find the optimal middle ground between you and the seller. The amount of negotiating power that you have will depend on the current market dynamics in your area. A buyer's market means there are more sellers than buyers and you would have more opportunities to negotiate, whereas a sellers market means there are more buyers than sellers and you have limited ability to negotiate due to competition among other potential buyers.
If accepted, the offer to purchase becomes a legally binding contract between you and the seller which establishes the parameters of the transaction. It includes the legal names of the parties involved in the transaction, a legal description of the property, financial details of the transaction such as the purchase price and security deposit, included and excluded unattached goods (chattels) such as appliances or furniture, all conditions and deadlines, and the closing date whereupon you get the keys.
Typically offers are made with a number of conditions that give you the buyer a period of time to finalize your financing and perform due diligence on the property before you become fully committed to proceed with the transaction. If you decide not to lift your conditions before the agreed upon deadlines elapse, then the agreement collapses and you can walk away from the transaction without recourse. Once the conditions are lifted, the purchase contract is firm and binding.
Condition of financing
When you submit an offer to purchase, it is important that you include a condition of finance (COF) which gives you a period of time to finalize your mortgage approval and confirm that you will indeed have access to the financing that you need in order to complete the transaction. While you would ideally have already been pre-approved for a mortgage at this point, it is important to understand that a pre-approval only takes into consideration your personal financial situation and that the property itself must still be approved by the lender.
For an insured mortgage on an urban house with Realtors involved and your pre-approval in hand, financing can usually be fully approved within 5-7 business days. When a physical appraisal is required, or for more unique transactions and property types where certain exceptions to lender guidelines may be necessary, 7 to 10 business days is more realistic. Also, keep in mind that the lenders with the best interest rates are the busiest, so they too may need more time. It is a good idea to confirm with your mortgage broker before setting your COF.
Property inspection
Another common condition to include in your offer to purchase is a condition for a home inspection. Sellers don't have a motivation to disclose any potential issues or concerns with the condition, safety, structure, or functionality of the property and not all defects are easily apparent, so it is a good idea to have it inspected before you commit to buy it.
It is of paramount importance that the home inspector you choose is trustworthy, experienced, and reliable. Do your research on how to choose a home inspector and find one with a reputable track record and specific home inspection experience and training. Avoid price shopping as cutting costs on a home inspector could cost you thousands if they miss something. The good ones might cost a little more!
If any issues arise from the inspection and you decide to negotiate a price reduction, the amended purchase contract will need to be re-approved by the mortgage lender with full disclosure for the reasons behind the price reduction, so it is best to get the inspection done as soon as possible after your offer is accepted rather than leaving it until the final days before your conditions deadline.
Review condo documents
If you are buying a condo, you should also make your offer subject to a satisfactory review of condo documents. You will want to obtain copies of the most recent condominium reserve fund study, its financial statements, and the latest annual general meeting minutes from the condo board. What you are looking for is any indication of poor financial management or deferred maintenance on the part of the governing body of the condo corporation and any mention of a "special assessment" (a levy imposed by the condo board on condo owners in excess of their normal condo fees to account for an unexpected shortfall in the budget). Ask your Realtor if they can recommend a Condominium Document Review Specialist if you are not sure what you are looking for.
---

Finalize Your Mortgage Approval
Once the seller has accepted your offer and conditions, your mortgage broker will work with you to finalize your mortgage approval prior to your condition of financing deadline. Provided that you were pre-approved and the property you have chosen meets all of the lender's requirements, there shouldn't be any surprises at this stage. (Meanwhile, you and your real estate agent will be working on the other purchase conditions, such as the property inspection).
Before submitting your mortgage application for lender underwriting and approval, your mortgage broker will review your options with you and fine tune the details of your loan request. Much of this will have already been discussed more generally at the pre-approval stage, but now that you have a specific property and purchase price, your broker will be able to be more precise. You'll have a number of decisions to make such as fixed vs variable interest rates, how much exactly you can afford for a down payment, and what amortization period (how long it takes to pay off your loan) you would like to set. All of this will factor into determining the monthly payment that you can expect. The mortgage that your broker sets you up with will also take into account additional mortgage features that may be important to you such as pre-payment privileges, mortgage portability, standard vs. collateral charges, a home equity line of credit (HELOC), or even cash back.
Lender Underwriting (takes 1 - 5 days from a formal submission)
After identifying a target lender as a good fit for your needs, objectives, and financial situation, your broker will submit your application and documents to the lender for underwriting, which is the process by which a lender assess the risk profile that you and the property represent and determine their willingness to lend based on internal and regulatory guidelines.
Normal queue time for underwriting is 24-48 hours. Sometimes during the busy spring season, there is a longer wait time in the queue (48-72+ hours) before an underwriter reviews your application (this can slow an approval). For a mortgage broker, a fast lender queue is definitely a factor in choosing who to submit to, but sometimes available rates and terms justify the wait (the best lenders are typically the busiest!).
Conditional Commitment Processing (takes 1 - 5 days from conditional approval)
If your application meets the lender's underwriting guidelines and they are willing to lend to you, they will issue a document called a commitment which signifies that your application has been approved subject to a list of lending conditions that still need to be satisfied. If your file is straightforward and full documentation was provided to the lender upfront, these conditions are often as simple as signing a few forms, however for more complex situations the lender may ask for further clarification and documentation to be provided. If the terms of the commitment are acceptable to you, you accept their offer (sign the commitment) and work with your broker to satisfy all outstanding conditions.
Once all conditions are met, the lender then triggers "mortgage instructions" to be sent to your selected lawyer. At this point, your mortgage professional will advise you, your real estate agent (if applicable) and your lawyer, in writing that funding has been "approved." If you have a condition of financing on your offer to purchase, you can now waive that condition.
Once you have been fully approved, it is still important to not make any significant changes to your financial situation such as applying for new credit (for example to buy new furniture or a vehicle), or quitting/ changing your job. A lender could still back out of lending to you if they become aware of significant changes to your finances.
Property Valuation
As part of the approval process, lenders need to confirm the value of the property you are purchasing by way of an appraisal to ensure that the purchase price you have agreed upon is supported by the economic fundamentals of the market. This is both for risk management and anti-fraud purposes.
In the case of an insured purchase with less than 20% down, the appraisal is typically performed behind the scenes by the mortgage default insurer using a computerized automatic valuation method. For conventional purchases with 20% down or more, an in person appraisal performed by an independent third party appraiser is typically one of the conditions you will see on your conditional commitment, although computerized appraisals are becoming more common for these types of transactions as well. Your mortgage broker will help you order the appraisal from the lender's list of approved appraisers and the appraiser will then coordinate the listing agent/sellers to coordinate access to the property.
During busy times, physical appraisals have the potential to introduce delays into the mortgage approval process depending on appraiser availability and the property location, which is one of the reasons it is important to discuss with your mortgage broker before setting your condition of financing.
---

Close the Deal
Once your financing is approved and you have lifted the various conditions of your purchase agreement, the contract becomes firm and binding and your mortgage broker, real estate agent, lender and lawyer will begin to coordinate the final phase of your purchase transaction, called Conveyancing and Funding.
Congratulations on getting this far. You have almost bought your first home! Pour yourself a drink of your choice and celebrate the milestone! The work isn't over yet however, as there is still lots to do before you are comfortably moved in. You will need to meet with your lawyer, arrange insurance, set up your utilities, and prepare to move.
What to Expect with the Lawyer
Coming up, you will - in most cases - be meeting with your lawyer or notary to conclude or "close" your transaction. Here's what to expect next:
Once your loan is approved, your Lender sends a package of papers called "mortgage instructions" to the lawyer you have designated. These instructions outline the lender's requirements before they will advance the mortgage money. Think of this as the lawyer's "to-do list."
For purchase transactions, the lawyer will also need a copy of the Offer to Purchase, plus all schedules and waivers to that agreement. Normally, your Realtor provides this to your lawyer, or if a private transaction, you've likely already been in contact with your lawyer.
The lawyer matches the mortgage and purchase contract paperwork, and after some preliminary work on your file, they set an appointment with you to come in and sign a series of papers. They will also tell you to bring a certified check or bank draft for a specific amount to cover the balance of your down payment, legal costs, applicable taxes*, and any required adjustments. If you haven't done so already, move all of your down payment funds into a single checking account You will also be asked to bring proof of fire insurance, a VOID check, government photo identification, and one other form of identification. Everyone on the mortgage approval must attend the meeting. Recently, due to the Covid 19 pandemic, remote signings have become more common.

Once the lawyer meets with you, all the papers are signed and after the last of their to-do list is complete, your transaction becomes "ready to fund." On the closing date, the lawyer requests funds from the lender,

pays everyone that needs to be paid and registers you as the new owner. You are now ready to pick up the keys from your real estate agent!
Arrange Insurance
Property insurance
As part of the conditions of funding, your mortgage lender will require you to have property/fire insurance, which is to protect you (and the lender) against financial loss from damages to your property due to an unforeseen event such as a fire or flood. Imagine losing your house to a fire while still owing a significant portion of your mortgage loan - that could be catastrophic! Start with the insurance company where you have your tenant or vehicle insurance and go from there. Your lawyer will be asking you to bring in an "insurance binder letter" to the upcoming pre-closing meeting.
Life and disability insurance
While you are not obligated to have life and/or disability insurance, it's strongly recommended that you review your needs at this point in time. These protect you and your family from losing the home in the event there is a loss of income (death or disability) and still a mortgage to pay.
There are two types of life and disability insurance to consider. Mortgage life insurance is easy to get and the payout is tied to your mortgage balance which diminishes as you pay it off. Term life insurance is an independent life insurance policy which may have more requirements to qualify for, but the payout is independent of your remaining mortgage balance.
Sometimes it's easiest to sign up for mortgage life insurance at the time of mortgage approval and then cancel it if or when you are able to find a better term life policy. Insurance Brokers are like mortgage brokers; they can shop the market for you. Banks often have their own insurance divisions. Here is a link to read more on life insurance.
Note: CMHC mortgage default insurance has nothing to do with the items above. If you are still confused, ask your mortgage professional or lawyer and they will be able to explain any questions that you might have.
There are several things you can do to make moving into your new home easier. Starting early and keeping organized rather than leaving everything to the last minute is probably the number one thing that you can do to make your move easier. Make a list of everything that you will need to accomplish and organize it into different time horizons.
One month before your move
Start selling what you don't need! Use sites like Kijiji, Ebay, and Facebook Marketplace.

Clean out your closets, basement and garage. Donate unused items to your favorite charity or have a garage sale to help pay for some of your move. (Can't decide whether to sell it or move it? Consider how much you could sell it for versus what it will cost to ship it.)

Get packing supplies; tape, boxes, tissue paper, bubble wrap, markers.

If this is a big move, start packing items of limited use prior to your move. Pack up things like photo albums, books, and seasonal decorations.

If you're packing items that will go in storage, make an itemized list of each box and its contents.

Start a log of moving expenses and keep all your move-related receipts. Some items may be tax deductible.

Find a reputable mover. If you're hiring professional movers get written estimates from at least two moving companies; include their written commitment of pickup and delivery dates. Ask for and check references. Check the limits of insurance they offer and whether or not it covers replacement costs. Purchase additional insurance if you need it.

DIY movers be aware that while you can book a U-Haul well in advance, they don't guarantee there will be a truck for you, only that they'll do their best. If you can move mid-week and avoid month-ends, you should be okay.

If you don't intend to clean your home or carpets yourself, arrange for cleaning services now as they get booked up.

Advise regular tradespeople (gardener, house cleaner, nanny, etc.) if you're moving out of their service area. Look into service providers for your new home.

If you are currently renting, make sure to give your landlord in writing the required notice to vacate (typically a full calendar month).

If you own rental properties, make sure to give your tenants a Notice of Landlord with your new street address (this is a legal requirement)
Two weeks before your move
Arrange for disconnection or transfer of your utilities (power, gas, cable, telephone, internet, security company). Get back any security deposits.

Set up mail forwarding with the post office. A one-year term will ensure that annual items will reach you, like T4s, tax papers, or outstanding bills (from the utility companies who couldn't get it right!).

Arrange to transfer or close your bank accounts. Order cheques with your new address and phone number.

Empty out your safety deposit box.

Stop or transfer newspaper and other home deliveries.

Advise friends, family and professionals of your new address and phone number. (Don't forget your doctor, dentist, chiropractor, and other medical professionals, schools, library, accountant, financial adviser, credit card companies, mortgage provider, Canada Revenue Agency [Revenue Canada], Motor Vehicle Branch, frequent flyer plans, your employer, medical plan, magazine and other subscriptions.)

Obtain/transfer all doctor, dental, veterinary records including prescriptions, X-rays, records, etc. Make sure you have adequate medications on hand for your family and pets.
One week before your move
Clean your home or confirm cleaning services.

Confirm delivery address, phone number and delivery date with the movers.

Clean out and defrost the freezer. Eat up all that food!

If you're moving to another city, pick up dry cleaning, prescriptions, photos, repair items, or anything else left outside your home.

Collect any spare keys from neighbors, cleaners, family members, etc.

Clean out school or gym lockers.

Return library books and any other borrowed items.

Contact ALL your utility companies and anyone who sends you a bill and give them your new address. Make sure to pay off any amounts owing. Record the names of who you talk to, and date and time, as these companies invariably screw something up, which then becomes your fault, not theirs.
A few days before your move
Complete packing all household goods for the move. Make sure boxes are clearly marked with the room they will go in, as well as "Fragile" if necessary.

Keep things you will need like your phone charger handy.

Place important documents in a safe box that you will carry. Include home purchase/sale papers, will, financial records, passports, birth certificates. Mark "Do Not Move" on the box; move this box yourself.

Prepare an "open first" box with towels, bedding, basic kitchen and bathroom supplies, toys or games for your children, tools (hammer, screwdriver) to set up furniture.

Set aside some cleaning supplies for final clean up of your old house and light cleaning for your new house

Label all keys for new occupants

Place all appliance manuals and warranties, etc in one place for the new occupants.
Move day!
Keep your cell phone handy in case you need to contact your movers, etc.

Make a note of all utility meter readings.

Carefully supervise the move. Make sure your instructions are understood, and that boxes are delivered to the right rooms.

Check all the rooms, closets, drawers, and cupboards to make sure you haven't left anything behind.

Turn down the thermostat.

Lock up and leave labeled keys and garage door openers with the landlord, new owners or real estate agent.

Arrive at your new home before the movers. Show the movers where to put boxes and furniture.

Check that you've been given the keys to every lock in your new home.

Carefully review the movers' bill of lading before signing. Check for damaged items.

At your new home, make sure the utilities are on and working properly.

Unpack your "open first" box. Set up your bed; unpack the kitchen and bathroom to help you feel at home.

Relax, order in dinner, and take a long hot bath.
After your move
Unpack, then donate or flatten and recycle boxes.

Change the address on your driver's license and car insurance.

Arrange Out-of-Province inspection of your car if applicable.

Install carbon monoxide detectors and a fire extinguisher.

Hide a spare key.

Plan your housewarming party!

Recommend your mortgage broker and Realtor to all your friends!
Enjoy Your Home
Congratulations on buying your first home (and for making it to the bottom of this ridiculously long page). We hope this guide has been of value to you. If we missed anything or there is anything else you'd like to know, please let us know and we will be happy to address it for you.
If you would like to have us on your home-buying team, we would be happy to set you up with a free consultation to discuss the specifics of your situation.
---
How to Buy a House (Summarized)
Determine your home buying objectives
Prepare yourself financially to buy a home
Get pre-approved for a mortgage
Search for a property
Make an offer to purchase
Finalize your mortgage approval
Close the deal
---
More Resources
Buying a Residential Property in Canada
CMHC Housing Outlook - what are the experts saying about housing prices
Financing Your Home Purchase
Mortgage Rates - rate isn't everything, but it is important.
Apply Now - start a mortgage application
Vendor Financing - other way to finance, when banks say no
Gift Letter Template - your family can help with down payment
Re-Financing Your Home
Reverse Mortgages - seniors can tap into home equity without moving or making payments
Understanding Credit
Mortgages in General
Insurance