Going into a "live" mortgage request, some clients appreciate an overview of the mortgage approval process from start right through to closing, where the mortgage is funded.
Please note, prior to a "live" financing request there are a couple of preparatory processes or steps that should be completed beforehand. The first step is the Pre-Assessment or Discovery Call, followed by a Mortgage Pre-Approval (steps 2 & 3 below) where your application and support documents have been requested, received and reviewed. Finally, we get to a "live" deal (steps 4 through 7) where financing is formally requested, approved, and funded.
The normal mortgage approval process goes something like this:
Pre-Qualify / Pre-Assessment - (step 1) we discuss your financial situation and advise you of any hurdles you may encounter in advance of borrowing so that you will be successful when the time comes.
Pre-Approval - (steps 2-3) before you make an offer of purchase, we review your mortgage application, check your credit report, request and examine your support documents, then review the same with specific lenders best suited for your situation especially where lending policy, exceptions or clarity may be required. Our aim is to have target lenders in mind willing to finance you (including rate lock if desired) before the target property has been found. There should be no surprises.
Approval - (steps 4-7) to obtain financing approval for you and a specific property.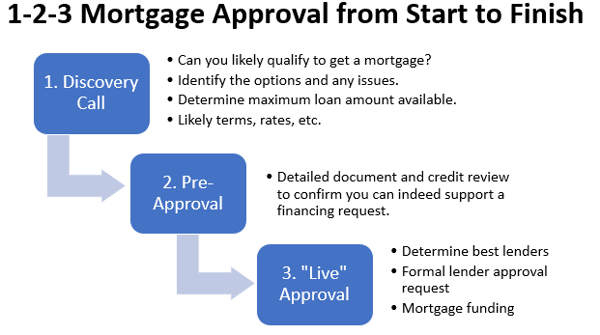 I explain all this next, first with a short version and then a more detailed overview. Choose which version you prefer!
Short Overview of the Mortgage Funding Process
You have already been pre-approved by our office and you are ready for a formal or "live" loan approval. Your application and our submission summary can typical be sent to a target lender on day one or two after we get your go ahead and the relevant property details. During normal times, we will hear back from a lender within a day or two of our submission. Upon satisfactory review ("risk underwriting"), the lender will provide a conditional approval (a "mortgage commitment") along with a list of documents they want to see from you to support your application. If – upon their review – the documents are satisfactory, they finalize their approval. In all, this takes about 7-10 business days start to finish.
Prior to a live request (aka a 'mortgage approval'), our normal practice is to provide you with a Support Document To-do Checklist such that we can review the bulk of your documents BEFORE we even consider submitting a loan for approval with a lender and before you make an offer on a property. This practice avoids surprises and wasting valuable time. Normally, clients can get their support documents together in a few days, but I have seen it drag on, which is hard on everyone. Basically, the pre-approval step ensures that your are indeed ready to "go live" for a mortgage approval.
Once the loan is approved, "mortgage instructions" are sent to your lawyer's office and they need at least 7 days to do their thing and to get you in to sign papers. Then you simply wait for the 'closing date' when the money changes hands.
Detailed Overview of the Mortgage Approval & Funding Process
The steps below are sequential, meaning one after the other (ie. step 2 should not occur until step 1 is complete, 2 before 3 and so on). The approximate number of business days to complete each step are shown in brackets. If you like, please PRINT this note and keep it as a handy reference and checklist with the rest of your papers.
Step 1) Pre-Assessment Discussion (15 minute conversation)
You decide you need to get ready for a mortgage loan, either because you are looking to buy a new property, have already found one, or need to refinance an existing one. You contact our office for a complimentary situation pre-assessment and we discuss your loan objectives, borrowing capacity, and the appropriate next step as it pertains to your situation - we call this step the 'Discovery Call'. The goal of the discovery call is to determine whether you meet the requirements to get a mortgage or not.
Step 2) Pre-Approval Kick-Off (takes us no more than 1 day)
You like what you have heard in the pre-assessment / discovery call, it sounds like you can get a mortgage, and ask us to send you a Mortgage Application and Support Document Check-list. We queue that up and email you a Let's Get Started package that will guide you through the application, what to expect, and help you collect the financial and personal information required to support an initial application.
TIP - see scanning documents for your mortgage broker
Step 3) Opening a File (takes us no more than 1 day)
Upon receipt of your completed application and privacy consent, we open a file to store and organize the documents you are beginning to send. Your application information goes into an electronic loan processing system called Filogix Express™ used by over 50 mortgage lenders in Canada. We augment your information by pulling your credit bureau report and confirming all is in order.
If it looks like we are still good to proceed with a pre-approval (or approval) and with file opened, the "ball is now in your court" and we wait for you to provide the mortgage support documents per the initial checklist. These documents can take time for you to collect but are essential for an accurate pre-approval and to speed an approval when the time comes.
As your file documentation comes together, we begin to further review your application and determine which of the lenders are the best fit with respect to rate, terms, and customer service for your particular situation. Our lenders are in constant contact with our office providing their latest in mortgage products, rates, terms and special deals. We also try to determine the lender's time-line for approval, as backlogs do occur. Generally we have 3 or 4 lenders in mind that we know will approve your file, and advise you at that point that your file has been pre-approved (recommended for approval).
To "go live" for an Approval, we obviously require a target property evidenced by an Offer to Purchase or property details / mortgage statement for a refinance. The approval process will pause here if we are waiting for a property to be identified.
Step 4) Lender Underwriting (takes 1 - 7 days from our formal submission)
Once you have a property and we are ready to "go live", your electronic application is updated with the property details and financing deadline, and once again reviewed with preferred lenders. A target lender is identified as having the best rate and terms for your situation. Your property details and loan application are then submitted to that lender via Filogix Express™ and queued electronically. Normal queue time for underwriting is 24-48 hours. Sometimes during the busy spring season, there is a longer wait time in the queue (48-72+ hours) before an underwriter reviews your application (this can slow an approval). A fast lender queue is definitely a factor in choosing who to submit to but sometimes available rates and terms justify the wait (the best lenders are typically the busiest!).
Mortgage underwriting is the process a lender uses to determine if the risk of lending to a particular borrower under certain parameters is acceptable. Most of the risks and terms that underwriters consider fall under the five C's of underwriting: credit (yours), capacity (for you to repay), collateral (the property they get if you default), capital (size of your down payment or equity), and conditions (other factors that might impact, such as unpaid income tax, pending separation, employment -industry outlook). If a lender declines to provide a commitment or is taking too long, we can re-submit to the next best lender.
Step 5) Conditional Commitment Processing (takes 2 - 4 days from lender approval)
If your application meets the lender's underwriting guidelines, we will receive an electronic "commitment" signifying that your application has been approved subject to a list of conditions that we would need to satisfy. The conditions will stipulate what documents are required to prove income, assets, employment, property details and value (for example, an acceptable appraisal). We will call you to discuss the terms of their offer and, if acceptable to you, you accept their offer (sign the commitment) and we set about to meet those applicable conditions.
Generally, the majority of the loan conditions will be satisfied by documents that you have already collected and are sitting in your file with us (hence why we do that step early on). There is usually a document review queue at the lender's end, so the faster we can get the accepted commitment and 100% of the required support documents to the lender, the faster we can get to "file complete," whereby all "broker" conditions have been met and accepted by the lender.
The lender then triggers "mortgage instructions" to be sent to your selected lawyer. At this point, we will advise you, your Realtor (if applicable), and your lawyer in writing that funding has been "approved." If there is a financing condition on an Offer to Purchase, your Realtor can now lift that condition.
Step 6) Pre-Closing (takes 7 - 10 days from 'file complete')
During this phase, your lawyer, working with the lender, prepares to register a mortgage with the Land Titles Office and to transfer the title of the property to you in the case of a purchase. If applicable, you or your Realtor will need to provide your lawyer with a fully executed Offer to Purchase. You will need to set up an appointment to meet with your lawyer to sign papers, to provide your down payment and closing costs, to confirm adequate home fire insurance, and to satisfy any other "solicitor conditions" (for example, to prove you paid off a debt that you said you would pay off). During this phase it is imperative that nothing changes in your employment, financial, or credit situation as the lender could still back out.
Step 7) Closing (typically by noon on the funding/possession date)
On the funding date, the lender transfers the funds to the lawyer's trust account and the lawyer then distributes the money to those who are supposed to get it. In the case of a purchase, the Realtor will provide you with the keys! The loan is now closed.
Communication is Key to a Smooth Mortgage Approval
As we proceed through this sequence, our office provides email progress updates to you, your Realtor, and to your lawyer, keeping everyone informed. We ask that you please be prepared to quickly address any lender requests and read our requests carefully, as they are exactly what is needed. In the end, you will be thrilled to see we kept our promise to deliver start-to-finish, an uneventful and stress-free funding of your mortgage.
Return to 'Can I Get a Mortgage' Overview