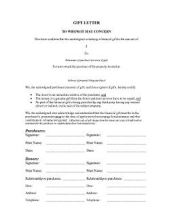 In Canada, an immediate relative can provide you with your down payment and this is evidenced by a "gift letter." A poorly written gift letter will waste time, energy and lead to frustrations for everyone involved in trying to arrange your mortgage. Don't let this happen to you!
The gift letter must identify:
the giver
the receiver
relationship between giver and receiver
the amount
the property being purchased
It is also important to note:
1) The giver is to be an immediate relative – parent, sibling, grandparent, aunt etc. Gifts from friends, bosses, common-laws, or family friends are not allowed in high ratio mortgages.
2) The gift must not be a loan, be subject to repayment terms, or trade for an ownership percentage in the future. Lenders look at the gift as "patient capital", meaning there is a greater good involved and quick payback is not an expectation or requirement. The giver is agreeing by signing that the money is a true gift.
3) The money must be provable either through deposit into the receivers account. The money deposited is to match exactly what is written on the gift letter...DO NOT deposit multiple items for this deposit.
4) Some lenders (but not all) require banking history from the gift source. If this creates a problem, we can help you find a different lender.
---
Dear
Home-buyer
If you have a moment, I suspect you are looking for a Gift Letter because you are starting or in the middle of a mortgage approval and you need one. For some reason, whomever you are working with has not provided one? Please consider working with us as your mortgage broker instead, or at least get a second opinion? Happy to help. Here is the Gift Letter, no obligation. Please touch base using the form if you want an exceptional experience and years of service and advice! Cheers