Why Renovate Your Property?
There are a number of reasons to renovate a property, including:
Increasingly, Canadians prefer to relax, socialize and work at home. Renovation offers tremendous opportunities to create a home that reflects the way you like to live and contributes to your enjoyment of life, whether utility or comfort features, energy-saving modifications, or even to achieve a grander sustainable living objective.
Secondly, many people undertake renovations to make their property more attractive to sell. Carefully selected and dependent on market conditions, these renovations can make sense whether in speeding the sale of a property or fetching a better price.
On this note, there is a metaphor or story called the "boiled frog syndrome" which cautions people to be aware of even gradual changes in their environment or surroundings lest they suffer eventual undesirable consequences. In this case, the reference is to the inability to sell your home when you need to, and as an argument against living with the creeping normality of a decaying unmaintained property. So why wait until you are going to sell to improve your property? Do it now and enjoy it!
So the third reason to renovate a property is to retain or increase its value. According to Scott McGillivray, television host of Income Property and author of How to Add Value to Your Home, property values increase in two ways:
Market Appreciation over time, appreciation that is largely out of your control, and
"Forced Appreciation," a term he uses to describe the value you can create or add to your property through smart improvements, including quality upgrades, updates and maintenance.
I like Scott because he has a passion in educating homeowners to make smart renovation and investment decisions that deliver financial rewards. Regarding 'forced appreciation,' he says you can build on your home investment as the market appreciates, and protect the value in a declining market.
More about 'smart improvements' later on this page. Let's look next at the way people can finance these improvements.
Home Renovation Financing Options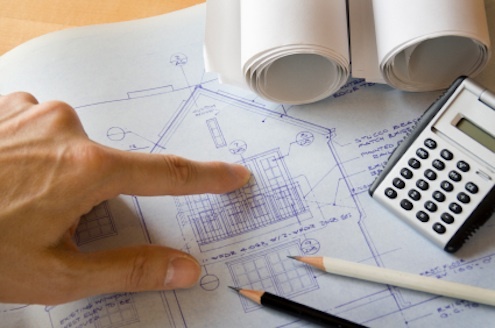 Depending on the scale of your project, there are a number of ways to finance your home improvements. For simplicity, let's divide the expenditures into smaller and larger projects.
Personal Borrowing for Smaller Projects
For smaller projects, you might want to consider paying cash or "personal" borrowing, meaning loans and revolving credit that you get at a retail bank (TD, Scotia, RBC, etc.) and that are not tied or "secured" to any of your assets. Some examples:
Credit cards - easy to get and convenient for smaller projects, but interest rates can be high to very high, and unpaid/outstanding balances can impact your ability to qualify or requalify for a mortgage. Requires discipline to repay the balance.
Personal line of credit - easier to get, interest rate typically lower at prime rate plus 2 or 3%, and you can pay it off then re-use it. However, unpaid/outstanding balances can also impact your ability to qualify or requalify for a mortgage and r

equire discipline to repay the balance in full.

Home improvement loan - gets you funds up front at a competitive interest rate, and typically offers a structured repayment plan to make sure you pay the loan off in a specified time frame, say 1 to 5 years, and the longer the payback period the less impact on mortgage qualifying ratios. More info here.
Deferred Payment Plan - typically used to intice you to purchase a particular product, such as a garage package or large appliance. Attraction is little or no payments for 1st year, but be careful, as the rates are typically approaching 29.9% after that, typically just a high-interest credit card in disguise.
What's it Going to Take to Repay the Money?
In all of the above, the trick is keep the renovation small and understand what it is going to take on your part to repay the debt in a given time frame. Understand whether you need a structured repayment obligation or have the discipline to make more than minimum payments if not!
Here's an example: you intended your renovation to be only $15K but you end up with $24K on your credit cards because the project got away on you with all the bells and whistles. To repay the entire balance over 2 years you would need the discipline to 1) never use the card again, AND 2) pay ~$1220/month for next 2 years, bring total cost of renovation to over $29K! Could you even afford an extra $1220/month?

A structured repayment plan or "installment loan" means the same monthly payment for a fixed term, say 5 years, and might be at a lower rate, say 7%, which might mean on your $24K project a $475/mo payment for the next 5 years and a similar $29K outlay. If you do end up with large credit card balances after a project, you could always talk to your bank about a 'consolidation loan' to convert the credit card debt into a lower interest rate product with a structured repayment plan to make it easier to pay back.
Borrowing on Home Equity for Larger Projects
For larger projects, you might want to consider borrowing based on the existing equity in your home, or the equity you can create doing smart renovations. In most cases where you already own the home, the maximum funds available are generally 80% of the appraised value of the property less the amount left to pay on your existing mortgage. Initial set-up costs may include legal and appraisal fees. Here are some options:
HELOC or Home Equity Line of Credit - works much like a personal line of credit, typically at prime rate +, and you can borrow the money up to your limit whenever you want and repay as you wish. Requires discipline to repay the balance.
Mortgage Add-On (2nd mortgage) - this is a loan on top of your existing mortgage. You must repay this loan in addition to the required payments on the original mortgage. More expensive than HELOC, but offers up front cash and a structured repayment plan.
Refinance with Equity-Take-Out - this means you replace your existing mortgage with a new mortgage up to 80% of the property's appraised value. You end up with a lump sum of cash at the beginning of your project, and spend it as you see fit.
Refinance Plus Improvements - this is a way to get 80% lending based on the NEW "as-improved" value of your property, not the existing value as in the above methods. This means access to more cash for extensive renovations, but comes with some strings attached, namely you get the money as the improvements are completed and inspected, not before. For larger projects, progress advances are sometimes available.
Purchase Plus Improvements - when you are buying a home, this is a way to get money in excess of the purchase price to be used for specific renovations as agreed to as part of the purchase mortgage financing. The extra funds available are based on the NEW "as-improved" estimated value of your property, in excess of the original purchase price. This means access to cash for extensive renovations, such as new roof, new kitchen, new bath, new windows and doors, etc. Again,

you get the money as the improvements are completed and inspected, not before, and you can accomplish all this with as little as 5% down payment. For larger improvement projects, progress advances are sometimes available.
In items 4 & 5, the trick to creating "as-improved" value that exceeds the cost of the renovations is to make quality and consistent renovations throughout the house, which compliment each other and increase the value of the whole house in the eyes of prospective buyers, as determined in advance by a licensed property appraiser.
Below, we are going to talk more specifically about the Refinance Plus Improvement and the Purchase Plus Improvement loan products, why they are popular, how they work, and requirements for success.
Meanwhile, if you have any questions please contact us. If you are not quite there yet, please read on!