Energy and Water Efficiency in Your Home is Important
With unprecedented levels of volatility in global energy markets and an upward trend in a greener lifestyle, more and more homeowners are exploring ways to use energy and water more conservatively with eco-friendly homes.
Whether you are interested in slashing energy and water bills or are simply motivated by a greener planet, there are policy and financing initiatives available to help you achieve those goals.
Facts:
More than 17% of energy consumed in Canada is used to run our homes
Buying an energy-efficient home or making energy-saving renovations can offer big savings
Green Home Purchase and Retrofit Refinance Options
We provide advice and mortgage financing options:
to build or purchase an energy efficient new house
to buy and renovate an existing property immediately following purchase
to renovate your current home to make it more energy efficient
TIP: check out this short guide called Homeowner's Guide to Energy Efficiency produced by National Resources Canada and the Canadian Real Estate Association.
Depending on your situation and requirements, flexible mortgage financing is available in a single advance or via progress advances.
Mortgage Financing Programs for Green / Eco Home Purchase or Renovations
Purchase Plus Improvements
Refinance Plus Improvements
Home Equity Line of Credit / Second mortgages
Construction Draw Mortgages
Green Home New Purchase
---
To learn more about mortgage financing programs for home renovations, click here.
---
Green Home Rebates and Incentives
There are plenty of local and regional energy efficient rebates and incentives; however, Canada lags far behind some countries on a national level. That being said, there is a good amount of pressure on our governments at all levels to expand green incentive programs and the list is ever evolving.
Check out the following links to determine whether you qualify for any rebates or incentives in your region and to learn more about energy efficiency.
Generally, to be eligible for rebates and incentives, the homeowner must prove they have complied with the program requirements. This could be as simple as proof of purchase on an applicance, purchasing a home from an approved energy-efficient building program builder, or more advance NRD pre- and post-improvement energy audits,
Top Sustainable Home Improvements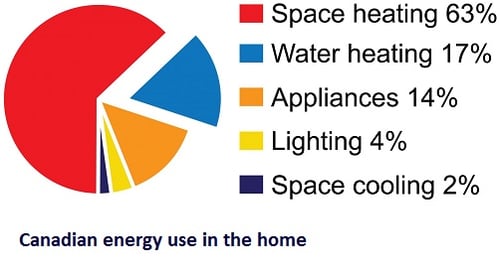 Benefit the Planet, Save Your Money!
Upgrade to an energy efficient furnace and hot water heater

Install low flow taps, shower heads, and toilets

Invest in energy star rated appliances

Install triple pane or argon insulated windows

Upgrade to energy efficient doors

Improve home insulation

Consider a home energy management system (HEM)

Install a grey water recycling system

Seal any drafts and heat leaks

Seal ducts and insulate pipes

Put in CFL interior and LED exterior lighting

Consider a rainwater collection system

Explore alternate forms of energy production (solar and wind)

Explore alternate forms of heating (geothermal and solar)
Sustainable Living Consultants
If you are interested in learning more about sustainable living and what projects make sense, there is a new category of specialty adviser emerging which we call a Sustainable Living Consultant that may be able to help.
Features of Typical Green Home Builders
In Canada, there are a number of "green home" and "energy-efficient" home building standards. A resource list of these programs is included below.
The goal of these building standards is to provide best-in-class energy-efficient new home construction that include high levels of insulation, clean air features and measures to help protect the environment. This translates into energy savings, increased comfort, and a healthier environment for the homeowner.
The features most common from builder to builder are as follows:
High insulation levels in walls, ceilings and basements
High-efficiency windows and doors
High-efficiency heating
Whole-house mechanical ventilation
Testing to ensure minimal air leakage
Water-conserving fixtures
Tip: Check out this Homeowner's Guide to Energy Efficiency (click here) published by Natural Resources Canada and the Canadian Real Estate Association.
Normally, the standards require for the home to be:
Constructed by trained builders who are licensed by the Government of Canada or Provincial authority
Evaluated, inspected and tested by an independent third-party inspector
Certified by the Government of Canada or Provincial authority
List of Green Home Building Programs