What does personal borrowing mean?
"Personal" borrowing means lending that is not tied or "secured" to any of your assets. You can obtain personal financing from a retail bank (TD, Scotia, RBC, etc.) or from a number of personal loan lenders, some of which we can direct you to. Some personal borrowing examples:
Credit cards

- easy to get and convenient for smaller projects, but interest rates can be high to very high, and unpaid/outstanding balances can impact your ability to qualify or re-qualify for a mortgage. Requires discipline to repay the balance.
Personal line of credit

- easier to get, interest rate typically lower at

prime rate plus 2 or 3%, and you can pay it off then re-use it. However,

unpaid/outstanding balances can also impact your ability to qualify or re-qualify for a mortgage and r

equire discipline to repay the balance in full.

Personal loan

(see below) gets you funds up front at a competitive interest rate, and typically offers a structured repayment plan to make sure you pay the loan off in a specified time frame, say 1 to 5 years, and the longer the payback period the lower the payment, hence less impact on mortgage qualifying ratios.
The opposite of personal borrowing is "secured" borrowing, such as a mortgage or a vehicle loan, which is tied to or secured by the asset.
---
3 Personal Loan Lender Choices
We currently have access to three personal loan lenders, each for different credit profiles. Better credit attracts lower interest rates, so have an idea of where your credit score sits as an important first step.
Borrowell

The first program from Borrowell has the lowest rates and a longer term and would likely be the best fit for a down payment loan if you are trying to create a zero-down mortgage and have good credit. Keep in mind that in addition to your mortgage, you will also have the personal loan to repay.
With Borrowell, you can get a quote on a loan in less than a minute, and getting a quote won't affect your credit score.
---
Payment Table - use this handy payment factor table to determine what a monthly payment might look like at the different interest rates for any lender presented on this page. The payment factors are per $10,000 borrowed, so if you want to borrow $20K instead, you can simply do the math and double the payment.
| | | |
| --- | --- | --- |
| Rate% | Term (years) | ~Pmt $/mo |
| 5% | 5 | $190 |
| 10% | 5 | $215 |
| 15% | 5 | $240 |
| 20% | 5 | $265 |
| 25% | 5 | $295 |
PS - you can do your own monthly payment calculations for different terms using our mortgage calculator, which will be pretty close. Make sure you first set the term then the amortization to the same value. For example, 5 year term, then 5 year amortization. You can access the calculator here.
---
Lendful
The second program from Lendful is also for better credit. You need to have had credit for at least 3 years and no active derogatory credit. Like Borrowell, the interest rate is determined by the amount of risk on your file. Lendful has a fixed lender fee unlike Borrowell who presents a range of lender fees. The lender fee is used to fund their operations and is added to the loan amount. For example, if you borrow $5000 with a 2% lender fee ($100), the total loan that needs to be repaid is set at $5100.
Fairstone
The final lender offers both unsecured and secured lending program for customers with near prime credit that can't presently get financing from a traditional lending source, such as a Bank or from our other two lenders. Rates are much higher, but can sometimes be justified if they help improve your situation, for example as part of a debt consolidation program.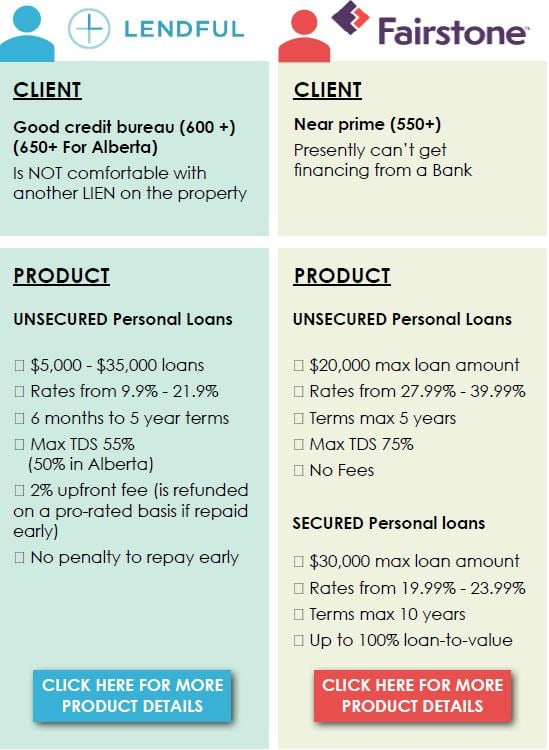 More Resources