Down payment is the amount of money that you pay at the time of purchase toward the price of your home. Your mortgage loan covers the rest. You should have a good idea of how much you can put toward the down payment before talking to a potential lender or mortgage broker.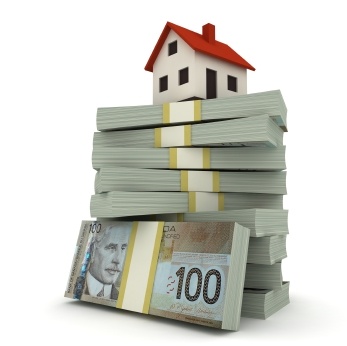 When you are at the stage of being ready to make an offer to buy a home, you will need to provide the seller with a deposit. The deposit forms part of your down payment, with the rest to be paid when you "close" the purchase of your new home.
When buying a home in Canada, the minimum down payment is at least 5% of the purchase price. For example, to buy a home that costs $250,000, you will need a minimum of $12,500 as your down payment.
In some cases, the minimum down payment may be higher than 5%. For example, if you are self-employed or have a poor credit history, you may be required to provide a higher down payment.
Tip
Save as much as you can for your down payment. A larger down payment means you need a smaller mortgage, which will save you thousands of dollars in interest charges.
If your down payment is less than 20%, you will have to purchase mortgage default insurance
, which could add thousands of dollars to your costs over the life of your mortgage. For more information on mortgage default insurance, see the section called
Mortgage Default Insurance

.
Example
The following table shows how the size of your down payment affects the total costs to borrow for a mortgage.
Assumptions:
Purchase price of home: $250,000
Amortization period: 25 years
Payment frequency: Monthly
Note: Any mortgage default insurance premiums have been added to the mortgage loan
| Down payment | Down payment amount | Mortgage loan required | Mortgage default insurance premium | Total mortgage cost (principal and interest) after 25 years |
| --- | --- | --- | --- | --- |
| 5% | $12,500 | $244,031 | $6,531 | $425,789 |
| 10% | $25,000 | $229,500 | $4,500 | $400,435 |
| 20% | $50,000 | $200,000 | Not required | $348,963 |
Normally, the minimum down payment must come from your own funds.
You may be eligible for other loans to help you come up with the down payment. However, it is always better to avoid taking on more debt for a down payment. For example, you may be able to use funds from your Registered Retirement Savings Plan (RRSP) for your down payment with the Home Buyers' Plan (HBP) or check out this blog article on other down payment options.