The table below is a great way of estimating a monthly mortgage payment for Canadian mortgages. We calculate the payment per $100,000 borrowed; then you can easily do the math. For example, for a $200K mortgage - just double the payment factor! AND, you just have to remember ONE number while you house shop and do the math on the fly!
Canadian Mortgage Payment Factors
Instructions:

Determine the current 5-Year Fixed Mortgage Rate, which is easiest to qualify for. Click here and make a note then return to this page (Use 'My/Best Rates').

Run your finger down the left column of the table below to find the rate (round to the nearest 1/4%).

Choose your desired amortization period across the top of the table (25 years has the lowest payment and is easiest to qualify for first-time buyers).

At the intersection of the column and row is your mortgage payment per month per $100,000 borrowed.

For example, $100,000 borrowed at 3.50% and amortized over 25 years will have a monthly payment of $499. Now just remember that number while you house shop!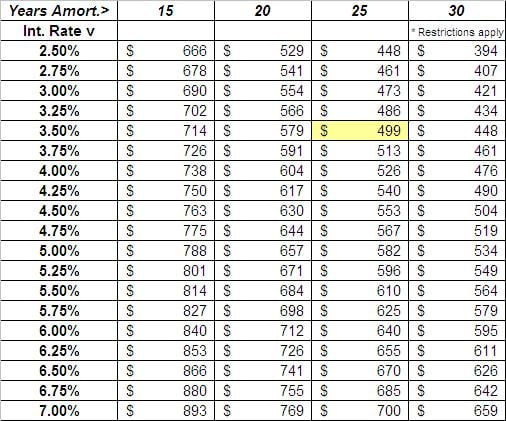 Example for a $350,000 house with 5% down: $1708/mo is the payment calculated as follows: $350K x 0.978* = $342,300/100,000 is 3.423. Payment factor per $100K @3.50% amortized over 25 years is $499/mo. Multiply 3.423 by $499 = $1708/mo. (* this factor = 5% down plus CMHC insurance)