Real estate transactions are complex; there's no doubt about it. With the number of moving parts and the drawn out timeline, buying a house is one of the more complicated transactions the average person will undertake in a lifetime. Luckily, you don't have to go it alone. Throughout the home buying process, a team of real estate professionals will support and guide you along the way. Like Frodo on his quest to deliver Sauron's ring to the fires of Mount Doom, a dependable team of trusty sidekicks will get you where you need to be.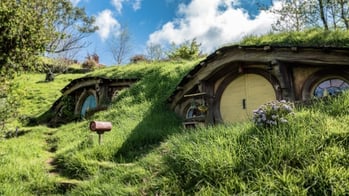 A clear understanding of who the different real estate professionals you will likely need to interact with are, what they do, who they represent, and how they get paid, will help you navigate the complexities of a real estate purchase while keeping your own best interests front of mind.
Your Real Estate Team
Mortgage Broker
Real Estate Agent
Lender
Appraiser
Home Inspector
Lawyer
Insurance Broker
Mortgage Broker
A mortgage broker exists to help you secure financing for your real estate purchase. Using information that you provide them about your personal financial situation and the subject property, they shop the market of available lenders so that you don't have to in order to find a lending solution that is a good fit for you. They have access to a wide range of different mortgage lenders and lending products including many of the large banks you are familiar with as well as many smaller dedicated mortgage lenders that would be harder for you to find. Different lenders serve different niches of the real estate lending market, so a broker helps you find the options that are most applicable to your needs.
We recommend that a mortgage professional is the first person you talk to when considering a real estate purchase. This is because there are many variables that determine how much mortgage you can qualify for and a mortgage broker can help you quickly determine what is a realistic price range to shop in and identify early on any obstacles that might hinder financing. You will work with your mortgage broker from the start of the home buying process until a lender approves your funding for a specific property, at which point your lawyer will work with the lender to distribute funds and transfer title of the property.
In most cases, a mortgage broker operates as intermediary between you and the lender and gets paid a finders fee by the lender only upon successful funding of your mortgage. In an intermediary relationship the goal of the broker is to match borrowers with suitable lenders without directly representing either. This is different than the mortgage professional at your local bank who is operating as a representative of the bank.
Real Estate Agent
The job of a Real Estate Agent is to represent either the buyer or seller in a transaction as a dedicated real estate sales and marketing expert. A Buyer's Agent's role is to represent the buyer and provide their professional opinion and guidance in finding a suitable property, comparing alternatives, negotiating an initial offer, facilitating communication, an ensuring follow through and follow up. Agents specialize in various different segments of the market so interview a few and find one that has experience with your situation and target location.
The best time to start working with a Real Estate Agent is right after you have been pre-approved by your mortgage broker. This is because the information that a pre-approval provides about your future ability to mortgage qualify is an important factor in determining a price range/ budget to shop in. Once you have a price range, your Real Estate Agent will be able to narrow down your search criteria, focus on what is important to you, compare and contrast alternatives, and ultimately negotiate a conditional offer on a property that is both desirable and attainable. They can even set you up to receive auto alerts for properties that meet your search criteria.
The buyer's agent is on your side and is there to look out for your best interests, so it is important to work with someone you feel that you can trust. In most jurisdictions, an Agent cannot represent both sides of a transaction, so make sure that you contract a Buyer's Agent that is unaffiliated with the Seller's Agent to avoid conflicts of interest. Typically, the Buyer's Agent and the Seller's Agent split a commission paid by the seller from the proceeds of a successfully completed sale, so it is important to keep in mind that a completed sale is always in both of their interests.
Lender
Since most people don't have hundreds of thousands of dollars lying around in their bank accounts, almost all real estate transactions involve a mortgage lender. Lenders involve everything from the big banks, to credit unions, to dedicated mortgage investment companies, but they all share the common objective of investing in mortgages to earn a rate of return (interest) for their investors over the life of the loan. The interest rates that lenders charge reflect a balance between their investors' perception of risk and their desire to compete for business with other lenders in any given sub-sector of the market.
The best way to access the most lenders and lending programs is through a mortgage broker, although you can also choose to work with some directly such as your bank. Remember that if you work directly with a specific lender such as your bank, you only get access to the lending programs that they offer. Once you have submitted a conditional offer on a specific property, your application, support documents and property details will be sent to the lender's underwriter for final approval. They may ask to see additional documentation at this point.
It's important to remember that any lender's principal concern is to ensure the security of their investment. They want to be certain that they will receive their money back under the terms agreed upon in the mortgage contract and that they have recourse against you in the event that you default on your loan. This is why the mortgage approval and underwriting process is so thorough. Mortgage and real estate fraud is also a constant concern and a threat not just to their balance books but to the underlying integrity of the Canadian real estate market as a whole.
Appraiser
The appraiser works with the lender to help determine whether the purchase price of a property is fair and justifiable from a lending perspective. Depending on the property type and location, appraisers use either on-site visits or an algorithm to compare the value of the subject property against comparable properties in the area that have sold recently. They may also perform other services if required such as estimate the fair market rent that the property would likely receive.
The appraisal typically happens after a conditional offer is made and the mortgage application has been submitted for approval. Most mortgage commitments are conditional on some form of appraisal, so satisfactory appraisal is usually contained implicitly within a condition of financing. It is important to note however, that an appraisal is different than a home inspection and is intended to protect the lender by verifying property value from a market perspective rather than protect the buyer by identifying defects like a home inspection would. It is also different from the assessed value that homeowners receive in the mail from their municipality which is calculated for tax purposes and lags true market value.
Depending on the situation and the type of property that you are buying, appraisals are paid for either by the lender or by you. Lenders have a list of acceptable appraisers that they will work with, so selection of an appraiser is largely out of your control.
Home Inspector
It is becoming increasingly common for home buyers to make their offers to purchase conditional on a satisfactory home inspection in addition to the condition of financing. A home inspector's job is to examine the various internal and external systems that compose a house to ensure that it is fully functional, livable, and safe and identify any potential issues that might not be easily apparent or fully disclosed by the seller. The information they provide can then be used by the buyer to make an informed decision about the property and potentially negotiate a better price or make other adjustments.
The best time to have a home inspected is before you are unconditionally obligated to buy it. That way if anything comes up in the inspection, you can still back out or adjust the offer. This is especially important with older properties and properties that are unique or non-standard in some way.
A home inspector is hired and paid for by you, so do your research and find one that is experienced and reputable. Your realtor may be able to recommend someone. With something as expensive and important as a real estate purchase, a home inspector is not the place to cheap out. The good ones charge more for a reason, but in the long run the peace of mind is likely worth it. Not all provinces require a home inspector to have a license so do some digging into their credentials and past experience.
Lawyer
It is the lawyer's job in a real estate transaction to ensure that title is legally transferred to your name, the mortgage is properly registered on title and funds are transferred to the appropriate recipients. There are a number of important legal documents to sign and it's a lawyers job to go through them with you and ensure you receive independent legal advice before signing. The lawyer may also discuss insurance options with you.
Before the closing date you will need to have an in person meeting with the lawyer of your choosing to sign documents and supply your down payment. Prior to the meeting your lender will send the lawyer a documents package called "mortgage instructions." Once received, your lawyer's office should contact you to schedule the meeting at least 10 days prior to closing. Make sure you bring your I.D., a void cheque and proof of fire insurance.
The lawyer represents and is paid for by you. To avoid conflicts of interest, most lenders require that you and the seller use separate, independent lawyers to represent each side of the transaction. Additionally, make sure that your lawyer's website mentions that they do real estate transactions, as not all lawyers are insured to practice real estate law.
Insurance Broker
There are many different types of insurance in real estate. Certain types of insurance protect the lender in a real estate transaction while other types protect you and your property. Insurance brokers deal with the type of insurance that protects you and your property. An insurance broker can help you review your current coverage an help you determine where gaps in your coverage may expose you to risk. Ideally you'll be protected through a combination of life and disability insurance (to protect you from the inability to pay your mortgage), property/fire insurance (to protect that property that you owe money on) and content insurance (to protect the contents of your home). Fire insurance with the mortgage as the first loss payable is the bare minimum. In the case of condos, there is likely a group policy.
You will need to have fire insurance in place at a minimum before your meeting with the lawyer. The insurance options that your mortgage broker or lender offer you are a good interim solutions in order to finalize the transaction, but it is a good idea to have a full review of your coverage with a licensed insurance broker when you have time. Proper coverage helps ensure payment certainty and avoid the potential for significant financial loss.
Insurance can feel like a waste of money until you need it and then it is the best thing ever. There is a minimum level of coverage you must have in order to obtain mortgage financing, but otherwise the choice is largely up to you to evaluate your requirements and make a choice that suits you. In all cases it's very important to understand the fine print and have a clear picture of what is and what is not included in your policy.
Teamwork Makes the Dream Work
With something as complicated as a real estate transaction, it is impossible to do everything yourself. You really do have to rely on the expertise and experience of the professionals you surround yourself with in order to be successful and avoid head aches. Having a clear understanding of what to expect from each professional involved in the transaction can help you make informed decisions and progress towards your goal with confidence and clarity. In all cases, the first step is a mortgage pre-approval to set a budget and ensure there are lenders available for both your financial situation and the target property.