Using the Equity in Your Home to Purchase Other Properties
What do Bob & Kathy of Calgary and John & Betty from Ottawa both have in common? They both happened to contact my office this past week and they both were trying to figure out mortgage options to finance the purchase of a vacant parcel of land somewhere 3 or 4 hours west of their home cities. For now, the plan was to use the place as a weekend and summer getaway and God knows they could use a getaway in this crazy Covid-ridden world! Down the road, each couple will eventually build a retirement home or cottage.
About 3.5 hours west of Calgary on the TransCanada Highway through Banff and between the Rocky and Purcell mountains lies the Columbia Valley, BC, with its clear sparkling lakes, breathtaking scenery, world-class ski resorts, championship golf courses, soothing hot springs, unique shops and cultural festivals. It is a popular all-season recreational paradise.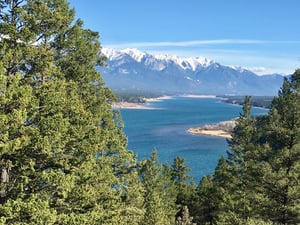 On the north shore of the valley's beautiful Lake Windermere is the town of Invermere, with a population of about 3,500 permanent residents plus several thousand part-time, recreational residents. Somewhere in the valley lies the perfect plot of land for Bob & Kathy waiting to be found.
For John & Betty, their 3.5 hour search radius to the west would give them a lot of options from Haliburton down to the Kawartha Lakes region, a chain of lakes in south-central Ontario that form the upper part of the Trent River.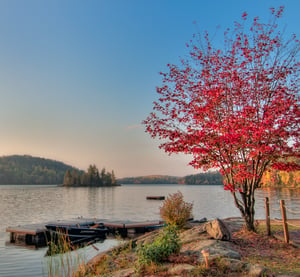 There are many lakes located in the area and cottages dot the shores of these lakes. Boating is very popular here also and cruising along the waters a favourite pastime. Like the Columbia Valley in BC, the Kawarthas in Ontario are perfect for escaping the city and getting a slice of tranquility.
The Problem
Anybody who has ever looked into financing vacant land soon discovers that it's quite difficult and very few lenders are interested in providing you a mortgage. If they are, vacant land lenders typically want 50% down payment, interest rates are one to three percent higher than a house mortgage and amortization periods offered can be as short as 10 or 15 years making for a stiff monthly payment. Furthermore, in the competitive market for quality recreational property, even the logistics of making a purchase offer with a "subject to financing" condition can make your offer less attractive to a seller.
The Solution
Thankfully, there is an excellent mortgage solution that I recommend that solves a lot of problems, and this is what I proposed to both couples. Rather than trying to finance the vacant land (or cottage) once they found it, my suggestion was to use the equity they had already accumulated in their respective homes in Calgary and Ottawa as a source of ready-to-go, lower-cost, and pre-approved funding. Having the mortgage funding already approved and in place in advance, they could conduct a property search with confidence knowing that they can make an attractive or perhaps aggressive "cash offer" when the right property pops up with no requirement to make it conditional on financing. Furthermore, the interest rate would be much lower than a vacant land loan.
(PS - I do recommend there be at least one purchase condition, however, such as land title and zoning due diligence - you'd hate to buy a property to discover you couldn't build!)
The Details
Here's how the solution works in its basic form. Your existing home can be refinanced to 80% of the current market value subject to standard mortgage qualification rules. This is called your Global Lending Limit ($600K) in the example image. From the 80% refinance, your existing mortgage lender is replaced ($344K in the example) and the balance of the refinance money becomes available as a standby line of credit which you can access by writing a cheque when the time is right.
There are a number of ways to achieve this outcome, the best of which (IMO) allows you to convert a line-of-credit balance to an amortizing lower-cost loan from the start ($200K) or after the fact. Some lenders permit multiple loan segments and reporting which - when the transaction is structured correctly - can provide for significant income tax deductions, for example if your goal was a VRBO.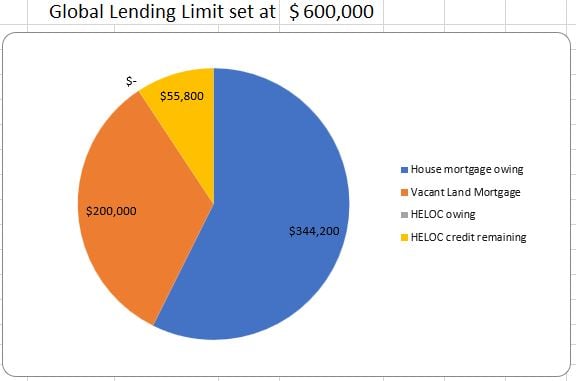 There is also a feature that I like very much whereby the principal paid down on your amortizing mortgages over time automatically re-advances to your line of credit limit (the yellow part), always keeping your home equity available and ready to access, perhaps to help further develop your land down the road.
"This mortgage option is a comprehensive financial tool for responsible borrowers that have good jobs and good credit, own their own homes already, and have a decent equity position in that home."
My 11min video segment demonstrates how this solution might work for you in more detail.
Conclusion
Back to Bob & Kathy and John & Betty, they both had existing mortgages mid-term with other lenders and there were penalties to break those mortgages early. I asked them to call their mortgage lenders and determine exactly what that penalty was and to also share with me their interest rate, balance owing, and remaining months in their mortgage terms. Armed with that information I did some calculations and was able to show both couples how they could recover their penalties with new lower interest rates, and also what interest savings they could achieve by using home equity to finance the recreational property rather than a more expensive vacant land loan. When they looked at the overall solution and math, plus the flexibility it offered, they knew that this was a solution for them and we proceeded with the refinance.
If this sounds like something that might work for you, we're happy to provide you with a free consultation.