HOW TO CHOOSE A HOME INSPECTOR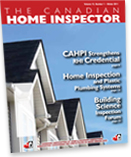 The practice of making an offer to purchase conditional upon a home inspection is becoming more prevalent, but many first time home buyers have no idea how to choose a qualified inspector.
Inspection Experience: Of paramount importance is an inspector's actual level of direct experience in the practice of home inspection. A general contractor's license can be an important credential, but when it comes to home inspection, a license to build homes indicates very little as it relates to competence as a property inspector. The experience that matters most is specific inspection training and experience with your home's major systems. The goal is for you to be absolutely comfortable knowing there are no unexpected surprises when it comes to ...
Electrical
Plumbing
Heating
Roofing
Foundation
Interior & Exterior
Sample Report: The proof is in the product, so be sure to request a sample report. What you're looking for is a format which is not only detailed and comprehensive, but which is easily interpreted and which makes a clear distinction between defective building conditions and "boiler plate" verbiage. Some reports are so -heavily loaded with general building information and liability disclaimers, that pertinent information about the property is obscured.
Let the Choice Be Yours: When choosing a home inspector, let the final selection be your own. Don't rely on others to make the choice for you. New and inexperienced inspectors are often able to obtain professional recommendations, regardless of their actual levels of thoroughness, competence, or lack thereof. What you want is the most meticulous, detailed home inspector available - the one who will save you from costly surprises after closing.
Avoid Price Shopping: Home inspection fees vary widely. Lower fees may indicate an inspector who is new to the business or does not spend sufficient time performing the inspection. A home purchase is expensive. One defect missed by your inspector (or trusted tradespeople, family member, etc.) could cost 100 times what you save with a bargain inspection. The best method of price shopping is to shop for quality.
INSPECT THE INSPECTOR!
Everybody writes today: "Subject to inspector's report". But remember not all inspectors are alike. Ask these questions:
1. Is the inspector a member of the Canadian Association of Home & Property Inspectors? Check it out at 1-888-748-2244.
2. Does he carry errors and omission insurance?
3. How long has the inspector and his company been in business?
4. What is his training, background? Is he an architect, tradesman or engineer? Ask for proof!
5. What is the fee? Does the fee include a written detailed report?
6. Does the inspector's company do repairs too? And if yes, isn't there a conflict of interest?
We also think that you should go on the inspection too. The home inspection is the perfect opportunity to become familiar with the house. Do not hesitate to ask questions. A good inspector will be glad to take the time to explain proper maintenance and operating procedures for many of the building components - if he says no, you can't come - get another inspector!